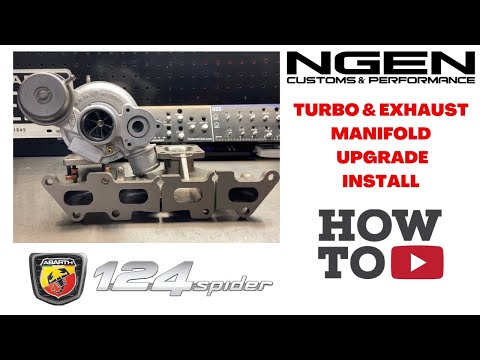 NEW VIDEO IS LIVE!
In this video, we show you how to install the NGEN Performance Turbo and Exhaust Manifold on a Fiat 124 Spider Abarth. This procedure will also work on the Classica and Lusso.
Tools Needed:
Electric Impact (Small)
Electric Impact (Heavy Duty)
7mm Socket
8mm Socket
10mm Socket
12mm Socket
13mm Socket
14mm Socket
16mm Socket
17mm Socket
19mm Socket
10mm Deep Socket
12mm Deep Socket
13mm Deep Socket
22mm O2 Sensor Socket
Drip Pan
8mm Mini Wrench
10mm Mini Wrench
Pliers
Pick
Flathead Screwdriver
5mm Allen Key
4mm Allen Socket (PTP Turbo Blanket)
5mm Allen Socket
3/8" Socket Wrench
T30 Torx Bit
T40 Torx Bit
10mm Wrench
12mm Wrench
13mm Wrench
14mm Wrench
19mm Wrench
22mm Wrench
(2) socket extensions
If you LIKE the video, please give it a THUMBS UP!
Make sure to SUBSCRIBE and hit the NOTIFICATION BELL so you never miss a video!
To purchase the NGEN Performance Turbo and Exhaust Manifold for your Fiat, click here:
https://ngencustomsandperformance.co...t-applications
https://ngencustomsandperformance.co...t-applications
For all of your Fiat, Abarth & Dodge Dart performance parts, please visit our website at:
https://www.ngencustomsandperformance.com
Help support the channel by purchasing some of our merchandise! We offer decals, hats, hoodies and t-shirts:
https://ngencustomsandperformance.co...handise&page=5
Instagram:
@ngencustomsandperformance
Facebook:
/ngencustoms
Questions:
E-mail:
[email protected]
Call/Text:
832-948-9409